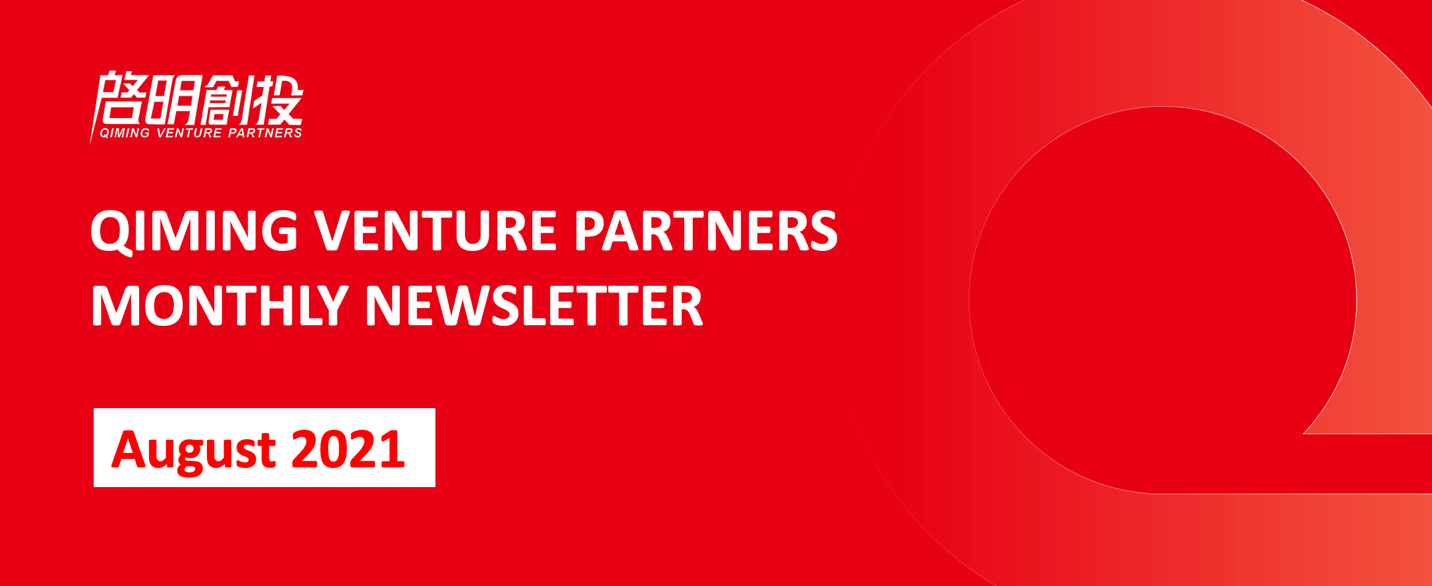 Deal Activities
TMT
Matrixport, Asia's fast-growing digital assets financial services platform, closed its Series C funding round with a valuation of over US$1 billion — two years after its establishment. Qiming Venture Partners participated in the deal.

Smart pet care products specialist PETKIT completed USD 50 million Series D financing participated by Qiming Venture Partners. Qiming first invested in the company in 2019, leading its Series C round.

The blockchain infrastructure platform InfStones raised US$10M in series A funding round led by Qiming Venture Partners. InfStones's main product is a platform where users can run validator nodes, access on-chain data and build decentralized applications across multiple blockchain networks. Decentralized digital wallet imToken and Crypto exchange Binance use the platform.

The private, secure data analytics software firm NVXClouds Tech completed Series B financing round participated by Qiming Venture Partners. The company's software encrypts users' data and analysis results while allowing users to conduct data operations more securely.

Healthcare
Sino Biological (SZSE:301047) on August 16th listed on Shenzhen's ChiNext Market. Founded in 2007, Sino Biological is a leading biotechnology company specializing in the R&D, production, sales of biological reagents. Qiming led the company's first financing round and was the company's largest institutional shareholder before its IPO.

Genomic testing firm Berry Oncology completed a US$99.15 million Series B1 financing round, bringing the total capital raised by the company to the highest level in China's early cancer screening industry.Qiming Venture Partners participated in the deal.

Yuanxin Technology, operator of China-based online healthcare services platform Miaoshou Doctor, completed a CNY1.5 billion (US$232 million) series F round of financing. Founded in 2015, the company has business segments including Miaoshou.net, Miaoshou Doctor (app), Miaoshou B2C Mall,and Yuanxin Pharmacy. Miaoshou Doctor is recognized as a Unicorn company in 2019 by CB Insights.

Chinese medical AI firm Shukun Technology completed CNY 700 million (USD90.4 Million) financing. Founded in 2017, Shukun uses medical AI neural networks to provide smart diagnosis and treatment solutions for diseases.

China's mRNA vaccine technology firm Abogen Biosciences raised US$700 million; Qiming followed on in the round. This funding round is one of the largest private biotech funding rounds ever.

AI-driven ophthalmic medical imaging technology company Vistel completed Series B financing close to a hundred million Renminbi. Qiming Venture Partners led the round. The company develops advanced diagnostic systems using computer vision processing, AI, and advanced image annotation for assisted eye disease diagnosis.

Zuoshou Yisheng (ZSYS) completed CNY100 million Series B financing led by Qiming Venture Partners. The company's core product is an "AI doctor" platform that utilizes deep learning and AI technologies to interpret patients' symptoms and generate diagnoses. The company collaborates with institutional customers through a SaaS business model and is currently exploring the potential for B2C products.

Portfolio Milestones and Recognitions
Belief Biomed's gene therapy for Hemophilia B receives China NMPA IND approval. This marks the first IND approval for Intravenous (i.v.) infusion gene therapy for Hemophilia B in China, and the first Intravenous infusion gene therapy for rare diseases in China. The company will advance Phase 1/2 clinical study shortly.

Infervision received FDA clearance for the "InferRead CT Stroke. AI" product. Deep learning and artificial intelligence technologies have significantly improved the image processing efficiency of stroke diagnosis, hence making early diagnosis and treatment possible. In July 2020, Infervision's InferRead Lung CT.AI Product received FDA clearance.

Amoy Diagnostics has obtained approval of the AmoyDx® PLC Panel in Japan as a companion diagnostic for TEPMETKO® (tepotinib), a Merck product for use in patients with unresectable, advanced or recurrent non-small cell lung cancer with MET gene exon 14 skipping alterations. This marks the first time Japanese patients will have direct access to a locally administered multi-gene PCR CDx with a very short turnaround time from sample to diagnosis, said Li-Mou Zheng, Ph.D., Founder and CEO of AmoyDx.

Insilico Medicine and the clinical-stage biopharmaceutical company BioNova have formed a collaboration to develop small molecule inhibitors by targeting oncogenic pathways, which are believed to be dominant drivers of specific hematologic malignancies.

Antengene and MindRank AI entered into collaboration on the joint development of first-in-class small-molecule oncology drugs. Through this collaboration to advance the development of difficult-to-drug targets, the two companies aim to improve the efficiency and success rate of the current drug discovery process. To date, Antengene has built a broad and expanding pipeline of 13 clinical and pre-clinical assets, comprising 8 global rights assets and 5 assets with rights for Asia Pacific markets including the Greater China region.

Schrödinger and Zai Lab agreed on a global discovery, development and commercialization collaboration focused on a novel program in oncology targeting DNA damage response. The agreement provides the two companies with pipeline expansion opportunities in precision oncology.

Hope Medicine appointed Dr. Henri Nico Doods to be the company's CEO and Chief Scientific Officer. In his position, he will lead the company towards a first-in-class focused global biopharmaceutical R&D organization. Dr. Doods used to serve as the company's President and Head of Research & Clinical Development.

Insilico Medicine's AI-powered drug discovery platform has delivered the preclinical candidate ("PCC") for kidney fibrosis. The preclinical candidate has the desirable pharmacological properties, pharmacokinetic profile, and demonstrated highly promising results in in-vitro and in-vivo preclinical studies. in February 2021, the company announced that its AI system identified a novel drug target and novel compound to treat idiopathic pulmonary fibrosis ("IPF"), which is another fibrotic disease affecting patients worldwide with high unmet medical needs.

KPMG China released the Future 50 Ranking for the Autotech sector. Four of Qiming's companies were named on the list: WeRide, Hesai Technology, NASN Auto, and Chuhang Technology.

Qiming Updates
CB Insights published Q2 2021 Global State of Venture Report. Qiming Venture Partners ranked among Top 5 Investors in Asia-based Companies.




Pitchbook published Q2 2021 Global League Tables. Qiming Venture Partners ranked #4 for Most Active VC Firms in Greater China and #2 for Most Active VC Firms in Healthcare Devices and Supplies globally.
Sources: Qiming Venture Partners, company press releases, media reports, etc.